NEWS - Scottish Power's EA2 & EA1N Proposals​
East Suffolk MP Therese Coffey and a delegation from the Suffolk Authorities have met with the Energy Minister in Whitehall - The Suffolk Coastal delegation took their concerns directly to Kwasi Kwarteng regarding the energy proposals and the effects on the AONB & coastal communities (image - Bramford substation Scottish Power's proposals for EA1N & EA2 could see two of these at Friston)...
Friston Community Event 4th January 2020 - In excess of 180 people attended the 2 community open days last weekend. The informative presentation and Q&A session helped provide guidance on Scottish Power's DCOs for EA1N & EA2 and the DCO process.
Click on more info button below to view the recorded video....
General Election 2019 - Do we know how our Suffolk Coastal candidates feel about the damaging energy proposals set to destroy large parts of our beautiful coast and wreak havoc on the small communities living here, especially those living in Friston
Party candidates standing in the forthcoming general election have provided their views on the hot issue of the moment, Suffolk 'Energy' proposals.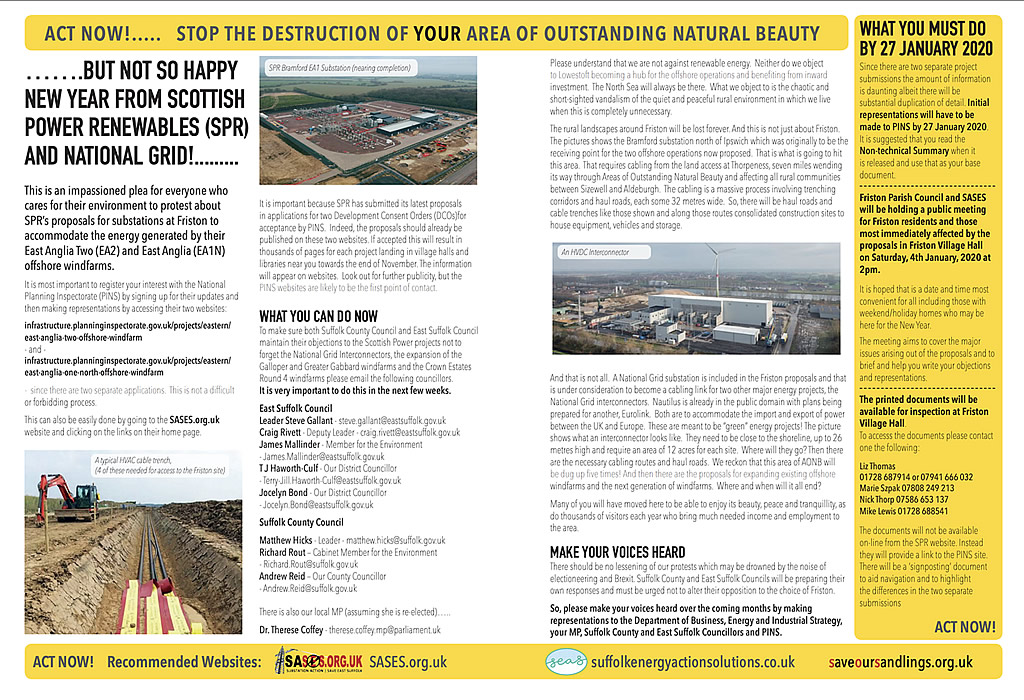 Winter Newsletter - Winter news from SEAS, SASES & SOS the campaign goes on check out the latest news, key dates and important contact information
If you care about the Suffolk Coast, the AONB, our communities and relatively unspoilt landscape …please engage with the campaigns which are trying to achieve changes to proposals by thoughtless energy companies.  Proposals that will ravage the Suffolk Coast, with years of construction mayhem, leaving us with 100s of acres of industrial sprawl. 
Friston suffers flooding again - SPR surely can't still believe Grove Wood is suitable for EA1 & EA2 substations?
Surface water from fields surrounding the village have caused 2 floods in the centre of the village in October (click more for the full story)..
SEAS Campaign - Numerous voxpops are now live on the SEAS YouTube page, hear residents views on Suffolk's damaging energy proposals
Our community is shocked and angry the Energy Coast Suffolk is set to destroy the Suffolk Heritage Coast and damage tourism. Scottish Power, National Grid and other energy companies plans are unbelievable..
Scottish Power's digger damage - SPR's cable route could cause huge disruption to the Suffolk Coast's footpaths and PRoW
Scottish Power's cable corridor to connect proposed off shore wind farms EA1N & EA2 to the grid set to close, disrupt or divert large stretches of popular footpaths including the 'Sandlings' walk.
28th March 2019 – EMAIL FROM GEORGE FREEMAN MP 
A Proper Plan for bringing electricity from offshore wind farms to the National Grid
As someone who I know shares an interest in our countryside and the impact of major development on our communities, habitats and landscape, I thought you'd appreciate a quick update on the massive development of cables and substations by international energy companies across Norfolk (and Suffolk).
Recently I secured and led a debate in Parliament to highlight the important issues raised by the planned development, at which the Minister gave some important undertakings.
Key points:
– The development of the major Southern North Sea wind farms will see 10 massive wind farms off the Norfolk and Suffolk Coast 
– To bring the electricity onshore will require hundreds of kilometres of high voltage cabling and connection to the National Grid via substations 
–  Whilst I – like you I'm sure – support offshore renewable wind energy, it is vital that the cabling and connectivity infrastructure is properly planned: to maximise efficiency, reduce waste and cost and to avoid unnecessary landscape, environmental and economic disruption across our county
– The first application for our area came in 2009, for a substation proposed to be at Little Dunham, on high ground visible to a huge area, before I and local councillors worked to negotiate for it to be moved to low lying land off the A47 at Necton
– We now have two more substations (these are the size of Wembley Stadium!) coming to Necton, with 150km of high voltage cabling being buried in trenches across the county). As before, the developer, in this case Vattenfall, have proposed putting the structures on top of a hill – affecting over 5 villages 
– But this time the developer is not prepared to discuss putting the station in low lying land, relying on the special planning rules for nationally significant infrastructure to override local concerns. 
– The first two farms alone have led to 150km and 2500 acres of farmland affected by cabling.
– In the next 5-10yrs, our area will see another 10 wind farms built offshore, and National Grid are currently proposing that each one makes its own arrangements for cabling and substation connectivity.
This is bonkers.
It is obvious to just about everyone who has looked at this that there ought to be an Offshore Ring Main with one or two connections onshore to the Grid – paid for by the consortia behind the farms (which are all heavily subsidised by us as taxpayers).
I believe we need a proper strategic Plan for bringing the offshore electricity onshore to the Grid (and making sure we have enough electricity here in Norfolk for all the new housing on the A11 corridor), which minimises disruption, cost, waste and landscape impact.
It is also only fair that the villages which carry the National Infrastructure for the nation should benefit in some way – with some contribution by the developer to local facilities.
After 3 years of working with many villages and Parish Councils, last week I raised the issues in a debate in Parliament.
The Minister gave a number of important undertakings – including supporting the call for a proper Offshore Ring Main – and has agreed to meet with me, other MPs, Councillors and organisations concerned at the impact on our countryside and communities. 
I am now convening an Offshore Energy Connection Plan Alliance (OECPA) to pursue this.
If you – or anyone you know would like to be kept informed – please let me now and feel free to forward this bulletin on.
To watch the debate in Parliament in full, please click the link to my website here: https://www.georgefreeman.co.uk/content/offshore-wind-energy-debate-0
I also include:
– The Hansard transcript of the debate (also attached)
– A link to the Petition: https://petition.parliament.uk/petitions/240822
– A link to the campaign page with all my up-to-date work on this issue: https://www.georgefreeman.co.uk/content/offshore-wind-farms-and-vattenfall
– Widespread media coverage of the debate:
MP calls for debate to avoid 'major environmental impact' of offshore windfarm projects:
https://www.northnorfolknews.co.uk/news/george-freeman-in-debate-over-norfolk-and-suffolk-windfarms-1-5932011
Communities left 'cut out' by plans for windfarms which include substation the size of Wembley stadium – MP:
https://www.edp24.co.uk/news/politics/george-freeman-in-debate-over-norfolk-and-suffolk-windfarms-1-5932011
https://www.eadt.co.uk/news/george-freeman-in-debate-over-norfolk-and-suffolk-windfarms-1-5932011
https://www.wattonandswaffhamtimes.co.uk/news/george-freeman-in-debate-over-norfolk-and-suffolk-windfarms-1-5932011
MP's concerns over power cables and substations:
https://www.itv.com/news/anglia/update/2019-03-12/mps-concerns-over-power-cables-and-substations/
Is this the way to stop offshore wind farm developers carving up miles of our region's countryside?
https://www.edp24.co.uk/news/environment/offshore-wind-farms-norfolk-coast-offshore-ring-mains-necton-mid-norfolk-mp-george-freeman-parliament-vanguard-boreas-vattenfall-hornsea-three-orsted-1-5946700
Please circulate this to anyone else you know who is concerned about our countryside and planning system and encourage them to please:
– Sign the Petition
Together – we CAN make a difference.
I believe we owe it to the generations who will come after us to get this right and leave our county as beautiful as we found it.
Yours,
George Freeman MP
Member of Parliament for Mid Norfolk
8 Damgate Street | Wymondham | NR18 0BQ
01953 600 617
www.georgefreeman.co.uk
To join the 25,000+ people following me on social media: Twitter @GeorgeFreemanMP Facebook @GeorgeFreemanMidNorfolk
26th March 2019 – Friston Parish Council & SASES response to EA1N & EA2 'Phase 4 Consultation' 

Friston Parish Council with SASES working group response to EA1N &EA2 Final Stage Consultations – read the joint response >>> 
26th March 2019 – Suffolk Authorities response to EA1N & EA2 'Phase 4 Consultation' 

East Suffolk & Suffolk County Council response to EA1N &EA2 Final Stage Consultations – read the joint response >>> 
10TH DECEMBER 2018
SCOTTISH POWER, MEETING WITH FRISTON PARISH COUNCIL
On Monday Scottish Power met with Friston Parish Council to confirm selection of Grove Wood, Friston. Also in attendance were members of the action group SASES, Suffolk County & District Councillors Russ Ranger and TJ Haworth-Culf.
This meeting was requested by Scottish Power, below is a summary of some key issues covered:
Scottish Power confirmed Grove Wood was the only site they would be taking though to Phase 4 consultation. 
They provided a summary presentation of the site selection process and reasoning for their choice (slides below). It was clear to all of the attendees nothing had changed the same reasoning was used to dismiss Broom Covert that saw the other 3 easterly proposals (sites 1, 2 & 3) dismissed. Scottish Power were not prepared to take a site forward to DCO that was in the AONB. – SPR were strongly challenged on this, effectively they have only seriously considered sites to the west all outside the AONB and they had failed to consider any brownfield options.
Scottish Powers presentation summary of 3.5 feedback showed a distinct lack of consideration of the views of the local authorities and of the local MP. More emphasis was given to Natural England and AONB who backed a decision to not locate in the AONB – SPR were challenged on their reasoning including identifying the AONB as a 'red' RAG issue, which was incorrect. After prompting from SASES, SPR corrected this and confirmed the 'red' issue was actually due to access off the main road (shared with Sizewell power station), it was pointed out that this had not been an issue for the 2 other wind farm substations already built at Sizewell.

When asked why the Friston location was so near to dwellings and why a 250m rule had been used when other projects used 500m+ SPR provided no satisfactory response  

– SASES asked why Royal Haskoning had used a 500m rule for the Galloper project, yet 250m was used at Friston, it was pointed out that even with a 250m buffer there were still some properties within 250m of the proposed substations at Friston.

When asked about economic impact, the effect on the village and effected communities and mitigation SPR confirmed these details would follow in Phase 4 when the full impact assessments were released – Attendees made it quite clear this was too little too late.
SPR were challenged on the impact their proposals were having on the value and sale-ability of Friston villagers homes – numerous concerns were brought to SPRs attention, sales particulars now had to include a disclaimer about SPRs proposals, property values had already been affected, sales were struggling, retired residents were stuck, people had bought in Friston as it was quiet, peaceful and in the countryside, all this was at risk. 
SPR were asked about proposals for compensation. SPR had nothing in place at the moment to address blight – It was made clear this was not acceptable and that something needed to be done to help villagers that wanted to sell or move away.
SPR were asked why property questionnaires sent to Friston residents were misleading, they did not make it clear provision of information was voluntary  – SPR confirmed that there was NO obligation to provide detailed information about property &/or access rights over property & land.
Site Selection Decision Presentation to Friston PC 10th December 2018 >>> – Presentation Slides provided by Scottish Power
IMPORTANT UPDATE ……SCOTTISH POWER REJECT BROOM COVERT & TAKE GROVE WOOD, FRISTON TO PHASE 4 CONSULTATION!
It is with great sadness that we can confirm that Scottish Power are pressing forward with their unrelenting assault on Friston in their pursuit for profit over environment and communities. Scottish Power's announcement takes forward a 'worst case scenario'. Scottish Powers plans represent both needless damage to the SC&H AONB and the destruction of the character of the unassumingly, peaceful village of Friston. 
SASES have released a media release to local and national press. SASES would like to let the SOS Group (Save Our Sandlings) know that we are fully supportive of their fight for the the AONB and that we hope to work closely together to shut down this unrelenting push from energy companies to destroy the Suffolk Coast & Heaths AONB and wider rural landscape of East Suffolk.  
Click here to read SASES's Media Release >>>
SASES – LAUNCH ONLINE DONATIONS FACILITY 
We have launched a donations page to help fight for the future of Friston and the wider Suffolk landscape. It is essential we are prepared, if needed to mount a legal challenge against Scottish Power and others who feel the AONB and East Suffolk is fair game for development.