SUBSTATION ACTION | SAVE EAST SUFFOLK | SASES.ORG.UK
SCOTTISH POWER & NATIONAL GRID'S DAMAGING PLANS FOR THE SUFFOLK COAST & COUNTRYSIDE
Scottish Powers DCO applications for EA1N & EA2 wind farms assert an intention to proceed with dangerous and damaging plans to build massive industrial substations at Grove Wood, Friston in Suffolk. Scottish Power & National Grid's proposals set a precedent for unnecessary industrialisation in the Suffolk countryside, and the systematic destruction of the character and sanctity of the peaceful village 'Friston'. If DCO's are granted a precedent will be set for these and other uncoordinated energy projects to cause many years of repeated damage to our communities in East Suffolk, our businesses our tourism/hospitality industry and the protected landscape of our Suffolk Coast & Heaths AONB – #STOPScottishPower #SuffolkDeservesBetter
EA1N & EA2 DCO Examinations – LATEST 
Examinations were due to officially close in April however PINS have announced today that the Secretary of State has granted a 3 month extension up until the 6th July (if required).
https://sases.org.uk/news/ea1n-ea2-dco-examinations-extended/ 

Scottish Power EA1N & EA2
DCO Application Timeline
22nd November 2019 – The Planning Inspectorate (PINS) accepted Scottish Power's DCO applications for EA1N & EA2 wind farm projects.
'Pre-Examination' – Application documents are available for the public to review and study on the PINS website and locally at libraries and village halls.
'Relevant Representations' – Submission of your personal views and concerns
'Examination Phase' – PINS Official timetable can be viewed here >>


'Preliminary Meeting' – Wednesday 16 September 2020 (10am) & Tuesday 6 October 2020 (if required).
'Open Floor Hearings' – Wednesday 7th October, Thursday 8th October & Friday 9th October.
2nd November – 'Written Representations' 

submission deadline.  

2nd November – Written response/feedback for 'Open Floor Hearings'.
2nd November – Notify PINs of your wish to speak at ISH1 & ISH2.
2nd November – Notify PINs of your wish to speak at additional OFHs (Open Floor Hearings scheduled 5th & 6th November).

ISSUE SPECIFIC HEARINGS (ISHs)
ISH 1 – Tuesday 1 December 10 am
Biodiversity and Habitats Regulations Assessment
ISH 2 – Wednesday 2 / Thursday 3 December 2 pm
Issue Specific Hearings2 (ISHs2): Onshore siting, design and construction
15th December – 'Deadline 3' comments & written submissions on ISH 1&2
13th January 2021 – 'Deadline 4'
19th January 2021 – ISH 3 (10am) & ISH 4 (2pm)
20th January 2021 – ISH 4 continued (10am)
21st January 2021 – ISH 5 (10am)
22nd January 2021 – OFH 6  (Open Floor Hearing 6)
28th January 2021 – OFH 7 (Open Floor Hearing 7)
29th January 2021 – ISH 6 Draft Development Consent Order
Timetable for February Hearings (+ links to agendas)
16th February 2021   – Compulsory Acquisition Hearing
17th February 2021   – ISH 7 Biodiversity & Habitats
18th February 2021   – ISH 8 Seascapes
19th February 2021   – ISH 9 Draft DCO
24th February 2021   – Deadline 6
March – NEW Issue Specific Hearings
9th March – ISH10 Health & Wellbeing Assessment
10th March – ISH11 Flood Risk & Drainage
11th March – ISH12  Noise
12th March – ISH13 Traffic & Transport/li>
16th & 17th March – ISH14 Biodiversity & Habitats Regulations Assessment
18th March – Compulsory Acquisition Hearing 3 (CAH3) including matters relevant to or arising from the Compulsory Acquisition Regulation
19th March – ISH15 Draft Development Consent Order 
23rd March – Tuesday 23rd – Friday 26th March (reserved for additional hearings)
25th March – Deadline 8
April, May, June – DCO Examinations Extension (see the official timetable for full details) 
15th April – Deadline 9 (extended deadline)
6th May – Deadline 10
20th May – Publication by ExA commentary or schedule of changes to dDCO (if required) / ExA's further written questions (ExQ3)
25th May – Time reserved for further hearings (Tuesday 25th – Thursday 27th May)
28th May – Issue Specific Hearing on dDCO Draft Development Consent Order
7th June – Deadline 11
16th June – Publication by ExA (Amendments to REIS) – • Amendments to the previously issued Reports on the Implications for European. 
28th June – Deadline 12
5th July – Deadline 13
6th July – Completion of Examination 
Planning Inspectorate Website Links
East Anglia One North – EA1N – PINS DCO APPLICATION >>
East Anglia Two – EA2 – PINS DCO APPLICATION
East Suffolk Councillor Elections confirmed for 8th July – Join the candidate hustings via ZOOM THURSDAY, 1 JULY 2021 at 5.30 for 6pm full details here >> 
7/6/2021 – Trail of destruction, SPR have sprayed a swathe of land marking out their intended cable route…a blatant two fingers up to the planning process and protected Suffolk AONB landscape …more info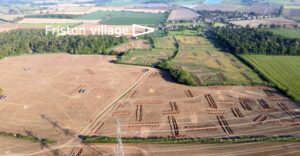 ⚠️⚠️This is a horror story for those residents living as close as 30 meters to these trenches.Their bedroom views are now over a trenched wasteland sprayed by the farmer to kill off all vegetation…… pic.twitter.com/XzIhQp6ixP

— SuffolkEnergyActionSolutions (@SEAScampaign) May 26, 2021
Fantastic that at PMQs today the Prime Minister confirmed his support for an offshore grid. @duncancbaker @theresecoffey @JeromeMayhew @GeorgeFreemanMP @bernardjenkin pic.twitter.com/mFcCzEbpDy

— James Cartlidge MP (@jc4southsuffolk) May 19, 2021
21/5/2021 – East Suffolk councillors resign, resignation letter cites East Suffolk Councils extremely detrimental energy aspirations  …more info 
8/4/2021 – SASES & SEAS campaigns write to PINS to object to extension to EA1N & EA2 DCO Examinations …more info 
1/4/2021 – PINS announce extension of EA1N 7 EA2 DCO Examinations …more info
24/2/2021 – Norfolk Vanguard Judicial Ruling & campaign leaders offer of help here in Suffolk …more info
6/2/2021 – 7 Parish & Town Councils write to East Suffolk Council expressing shock and disappointment at the councils change in position on SPRs proposals …more info
5/2/2021 – 45 Suffolk Parish Councils write to Kwarsi Kwarteng BEIS SoS inviting him to come and see the issues regarding energy proposals here …more info

5/1/2021 – East Suffolk Council Cabinet Meeting
ESC moving to a neutral position on EA1N & EA2? Documents released suggest that ESC is moving to a neutral position on Scottish Powers EA1N & EA2 proposals. Understandably local residents are both angry and disappointed learning of this news with no warning or notice …more info
15/7/2020 – Transmission Review – BEIS Announcement 
Department of Business, Energy & Industrial Strategy is to review the offshore transmission network and how wind farms and inter-connectors can be most effectively connected to the UK grid …SASES will press for EA1N & EA2 projects to be part of this review as there cannot be a precedent for needless development in the countryside next to Friston village ….more info
Eastern Daily Press – 2 June 2020
Ofgem to look into an offshore ring main (ORM) to avoid Energy Firms having to dig up the (Norfolk) countryside for separate onshore cable corridors and substations in order to link each new Wind Farm to the National Grid …more info
Planning Inspectorate asks for your views on plans for virtual DCO meetings & hearings, SASES send letter to examiners expressing concerns …more info
Wildlife in lockdown – The badger set at Grove Wood shows how wildlife is thriving, however many are concerned about the impact Scottish Power's proposals will have on local wildlife and ecology …more info
32 Suffolk Parish Councils call for Secretary of State at BEIS to urgently review east Suffolk energy proposals and for immediate suspension of EA1N & EA2 DCO's …more info 
SASES & Friston PC send report to Planning Inspectorate  – The report provides details and supporting evidence of the failures in SPRs pre-application planning & consultations …more info
Friston hit by flooding – Friston suffers floods illustrating why SPRs proposals at Grove Wood are unacceptable …more info
Suffolk Coast DMO – Suffolk marketing organisation's survey reveals considerable economic impact of energy proposals on local tourism …more info

Scottish Power Renewables a UK subsidiary of Iberdrola propose to build massive wind farm substations in open countryside in rural Suffolk. Scottish Power, a company which boasts about its 'Green' credentials threatens to turn open fields into one of Europes biggest wind farm substations or 'Energy Hubs'.
Wind energy has many benefits however communities in East Suffolk and the Suffolk Coast have learnt that 'Green energy' from offshore wind could have dire consequences for small peaceful Suffolk communities. 
Windfarm substations require huge industrial buildings and compounds. If planning is granted for Scottish Powers Energy Hub north of Friston it would set a precedent which could threaten the Suffolk countryside. The proposed cable corridor alone would require trenching and haul roads 60m wide, running 10km from Thorpeness across the AONB through Aldringham, Knodishall and Friston. The substations themselves would devastate a greenfield site and destroy the character and appeal of Friston village. 
This part of Suffolk is enjoyed by well over 8 million tourists annually. It is loved and respected by those who choose to live here. Scottish Power & others plan to make the Suffolk Coast – 'The Energy Coast' this shows a complete disregard for the towns, villages and open countryside that make the area so special. Numerous energy proposals including EDFs (Sizewell C/D) , SPRs onshore development for off shore wind farms and National Grid Ventures (Interconnectors Nautilus & Eurolink) could destroy the character of this part of the Suffolk Coast for ever.
The benefits WILL NEVER outweigh the devastation and destruction caused by these projects. If we don't stand up for 'Our Suffolk' we will loose it forever! Let us all act with a united voice, communities in East Suffolk & The Suffolk Coast. Say 'NO' to Scottish Power! #STOPScottishPower #SAVEEastSuffolk 
SCOTTISH POWER EA2 + EA1N SUBSTATIONS FRISTON THE FACTS
Protected areas devastated Suffolk Coast AONB & Sandlings SSI
+ km of cable trenches up to 64m wide
+ acres of countryside concreted over & industrialised
+ metre high buildings in huge industrial compounds
TOO BIG
35+ acres of industrial buildings and concrete over a greenfield site in the countryside.
TOO CLOSE
Just a few hundred metres from Friston Village, villagers homes and listed property including the Grade II* listed church which dates back to the 14th century.
The substations will dwarf Friston village and will be visible from all routes into the village.
The substation complex will permanently blight Friston village, and will be detrimental to Friston residents quality of life and the value of their property, especially closer to the substations to the north of the village.
TOO DISRUPTIVE
Construction issues – Roads and country lanes are unsuitable to handle heavy or wide construction traffic. The proposals would be dangerous for other vehicles, cyclists and walkers using the roads.
Noise, dust and light pollution during the build.
Legacy of negative visual impact, potential of anti-social noise and light pollution during operation./span>
TOO DESTRUCTIVE
Unacceptable flood risk to Friston village and residents homes from surface water proposals.
Destruction of habitat for rare wildlife including 3 species of bat, badgers and barn owls all found at the Friston location.
Longest and most disruptive cable route required 10+ km long and up to 64 metres wide digging up swathes of the AONB.
Loss of amenity, loss of well used footpaths and loss of village allotments.
Digging up and closure of popular coastal footpaths including over a mile of the 'Sandlings Walk' between Friston and Coldfair Green.
Possible closure of Thorpeness beach during cable landing.
A precedent would be set that could threaten other towns and villages and the Suffolk we know and love.
LANDSCAPE SCARRED BY CABLE ROUTE

DEVASTATING CUMULATIVE IMPACT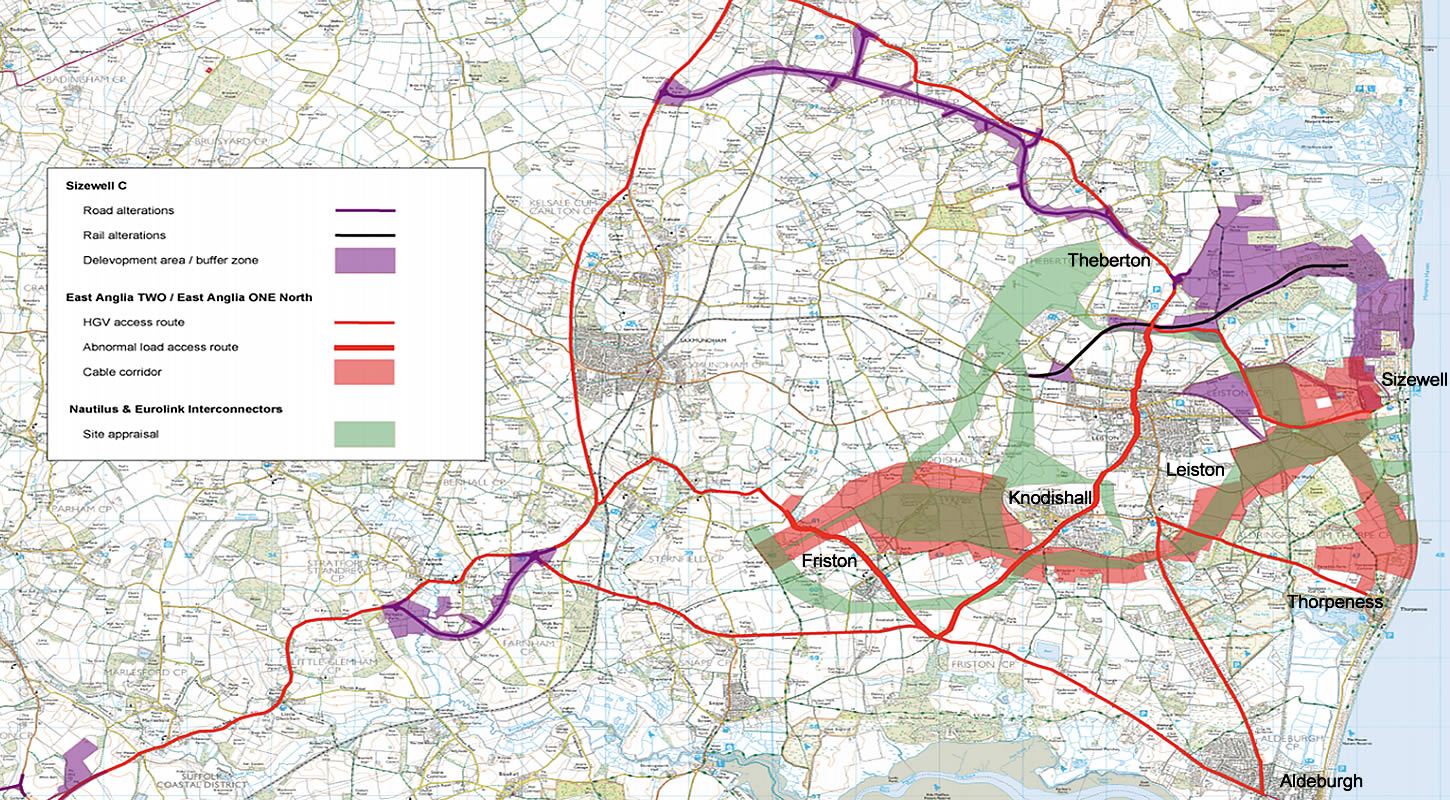 SUFFOLK WARNING – Up to 10 projects are proposed for this small area on Suffolk Coast. 
EDF – Sizewell C1 & C2 | Scottish Power – Cable route and substations for EA1N and EA2 wind farms | National Grid Ventures – Nautilus & Eurolink Interconnectors and substations. 
Plus rumours existing wind farms Greater Gabbard & Galloper intend to expand (further destruction of AONB, farmland, heathland, and onshore coastline).
The Crown Estate has also launched round 4 of offshore wind auctions so even more could threaten this area. 
SASES.ORG.UK stands for 'Substation Action Save East Suffolk' we are an action group representing the communities in East Suffolk and on the Suffolk Coast. Whilst we all need electricity we should not have to suffer at the hands of big power companies. We aim to fight poor decisions that impact on communities and residents in East Suffolk and we will hold energy companies and government energy policy to account.
We will expose the poor consultation and decision making of Scottish Power Iberdrola. 
We will fight for communities and the sanctity of village life. 
We will stop industrialisation of the countryside  a precedent cannot be made allowing Scottish Power or other energy companies to build substations next to villages or towns within rural locations. The government needs to agree designated locations for this kind of energy infrastructure.  
We will push for joined up thinking and sense on energy policy, we will Save East Suffolk! 
We stand with a united voice, residents in East Suffolk and the Suffolk Coast will not accept this precedent to be set. We will fight to ensure substations are not built in randomly selected locations when there is suitable land closer to Sizewell, nearer to the coast and cable landfall. The energy companies must work together with EDF (Sizewell Power Station) & Magnox (Sizewell – Nuclear Decommissioning Authority) they must find an acceptable solution that causes less damage to communities and the sensitive environment of the Suffolk Coast AONB.
DEMAND SCRUTINY OF NATIONAL GRID'S DAMAGING CONNECTION PROPOSALS THAT IGNORE THE SUFFOLK COAST & HEATHS AONB AND SUFFOLK'S COMMUNITIES AND BUSINESSES
SAY NO TO THE SCOTTISH POWER SUBSTATION FRISTON