UNPRECEDENTED INDUSTRIAL THREAT TO TOWNS & VILLAGES IN THE SUFFOLK COUNTRYSIDE
#STOPScottishPower – Whilst Scottish Power's consultations may be over, our community fight continues. Scottish Powers decision to proceed with proposals to build massive industrial substations at Grove Wood, Friston is dangerous and wrong – the location is visually exposed and the land is the main contributing factor to historical flooding in Friston village. 
SUBSTATION ACTION | SAVE EAST SUFFOLK | SASES.ORG.UK
Scottish Power Renewables propose to build massive windfarm substations in open countryside in Suffolk. Scottish Power, a company which boasts about its 'Green' credentials threatens to turn open fields in rural Suffolk into one of Europes biggest wind farm substations or 'Energy Hubs'.
Wind energy has many benefits however communities in East Suffolk and the Suffolk Coast have learnt that 'Green energy' from offshore wind could have dire consequences for small peaceful Suffolk communities. 
Windfarm substations require huge industrial buildings and compounds. If planning is granted for Scottish Powers Energy Hub north of Friston it would set a precedent which could threaten the Suffolk countryside. The proposed cable corridor alone would require trenching and haul roads 60m wide from Thorpeness across the AONB through Aldringham, Knodishall and Friston. The substations themselves would devastate a greenfield site and destroy the character and appeal of Friston village. 
This part of Suffolk is enjoyed by well over 8 million tourists annually. It is loved and respected by those who choose to live here. Scottish Power & others plan to make the Suffolk Coast – 'The Energy Coast' shows a complete disregard for the towns, villages and open countryside that make the area so special. Numerous energy proposals including EDFs (Sizewell C/D) , SPRs onshore development for off shore wind farms and National Grid Ventures (Interconnectors Nautilus & Eurolink) could destroy the character of this part of the Suffolk Coast for ever. The benefits WILL NEVER outweigh the devastation and destruction caused by these projects. 
If we don't stand up for 'Our Suffolk' we will loose it forever! Let us all act with a united voice, communities in East Suffolk & The Suffolk Coast. Say 'NO' to Scottish Power! #STOPScottishPower #SAVEEastSuffolk 
Upcoming events: 
Scottish Power Community Briefing
12th September 2019 – 6pm Sizewell Sports & Social Club
Scottish Power's 'Community Briefing' detail of the process of DCO application submission for EA1N & EA2
This event will provide key details fo the planning process and how to register as an interested party. You need to request to be added to the list of attendees by responding to: eastangliaonenorth@scottishpower.com or eastangliatwo@scottishpower.com
CLICK HERE FOR FULL DETAILS
Friston Residents Meeting – Including those affected in adjoining local parishes
13th September 2019 – 6pm Friston Village Hall 
A community event to discuss Scottish Power's EA1N & EA2 DCO application.
This event will explore how residents must come together and continue to oppose the reckless and dangerous proposals which will damage our Suffolk Coastal communities and the Suffolk Coast AONB.
29 July 2019 – New ministers appointed at BEIS, DEFRA & Ministry of Housing, Communities & Local Government 
28 June 2019 – 5.30pm MP Therese Coffey will hold a meeting with local residents to discuss wind/renewable energy issues and impacts >>> more info
26 March 2019 – Suffolk Authorities (Suffolk Coastal DC & Suffolk County Council) Official Response To SPR PEIR 'Phase 4' Consultation >>> Read their joint response
26 March 2019 – Friston Parish Council Official Response To SPR PEIR 'Phase 4' Consultation >>> Friston Parish Council – (SPR Phase 4 Consultation) PEIR Response
1 March 2019 -Suffolk County Council & East Suffolk DC response to 'Phase 4' consultation – we remain deeply concerned about Scottish Power's wind farm proposals >>> Joint authorities public statement
Suffolk Authorities working notes >>> available here
17 Feb 2019 – Government Petition 'Make offshore wind farms connect to grid by an Offshore Ring Main >>> SIGN THE PETITION & PLEASE SEND THE LINK ON TO YOUR CONTACTS

16 FEB 2019 – Scottish Power Phase 4 Consultation EA1N & EA2 (16th February to 26th March) 
1 FEB 2019 – SASES release cumulative impact map of energy proposals
'The Coastal Warzone MAP' We have released an overlayed map displaying the known energy proposals affecting our small communities and Suffolk Coast & Heaths AONB.  
1 FEB 2019 – Scottish Power release full supporting documentation for EA1N & EA2 projects
The full pre-DCO 'Phase 4' consultation documents are now available online: SPR EA1N & EA2 Supporting Documents 
NGV (National Grid Ventures) have presented plans to SC&H AONB for 2 Interconnectors – cables linking the UK grid with Holland and Belgium (Nautilus and Eurolink). Proposals include cable landing between Thorpeness and Sizewell and large substations further inland; NGVs options for onshore development include siting further substations at Friston in addition to those currently in consultation (Scottish Power EA1N + EA2 and National Grids other proposed substations)
<< NGV Nautilus Eurolink presentation notes >>
<< EU Interconnector plans – How you can respond >>

3 JAN 2019 – SASES write to request parliamentary select committee investigations into unprecedented energy threat to East Suffolk & Suffolk Coast AONB – 'Local communities need answers from National Grid, NGV, Scottish Power, EDF and Government' – << read the letter >>
4 JAN 2019 – SASES letter to MP Therese Coffey to inform of our requests for select committee questions. And to endorse her own call for energy projects to investigate other options like Bradwell, Essex a 'brownfield' site with grid connections "which needs significant upgrade" – << read the letter 
SCOTTISH POWER EA2 + EA1N SUBSTATIONS FRISTON THE FACTS
Protected areas to be ploughed across
+ km of cable trenches 50m wide
+ acres of countryside tarmacked
metre high buildings in huge industrial compounds


TOO BIG
35+ acres of industrial buildings and concrete over a greenfield site in the countryside.
TOO CLOSE
Just a few hundred metres from the nearest homes and numerous listed property including Friston church, the substations will dwarf Friston village and will be visible from all routes into the village. The substation complex will permanently blight Friston village, and will be detrimental to Friston residents quality of life and the value of their property, especially closer to the substations to the north of the village.
TOO DISRUPTIVE
Construction issues – Roads and country lanes are unsuitable to handle heavy or wide construction traffic. The proposals would be dangerous for other vehicles, cyclists and walkers using the roads. Noise, dust and light pollution during the build.
Legacy of negative visual impact, potential of anti-social noise and light pollution during operation.
TOO DESTRUCTIVE
Unacceptable flood risk to Friston village and residents homes from surface water proposals. 
Destruction of habitat for rare wildlife including 3 species of bat, badgers and barn owls all found at the Friston location. 
Longest and most disruptive cable route required 10+ km long and up to 60 metres wide digging up swathes of the AONB. 
Loss of amenity, loss of well used footpaths and loss of village allotments.
Digging up and closure of popular coastal footpaths including over a mile of the 'Sandlings Walk' between Friston and Coldfair Green.
Possible closure of Thorpeness beach during cable landing.
A precedent would be set that could threaten other towns and villages and the Suffolk we know and love. 

LANDSCAPE SCARRED BY CABLE ROUTE
DEVASTATING CUMULATIVE IMPACT
Effectively 6 projects are proposed for this small area along the Suffolk Coast. 
EDF – Sizewell C1 & C2 | Scottish Power – Cable route and substations for EA1N and EA2 wind farms | National Grid Ventures – Nautilus & Eurolink Interconnectors and substations
The Petition – Lend Your Voice
Sign our petition – Over 2000 Say 'NO' to Scottish Powers proposals to build industrial substations at Friston in Suffolk countryside. #STOPScottishPower from damaging communities and villages in and around the Suffolk Coast. 
Make sure your town, village or community isn't next – Sign our petition
If you value communities and the sanctity of village life within the East Suffolk Countryside and The Suffolk Coast – Sign our petition
SAY NO to Scottish Power Substation Friston – Sign our petition
WHO ARE SASES.ORG.UK
SASES.ORG.UK stands for 'Substation Action Save East Suffolk' we are an action group representing the communities in East Suffolk and on the Suffolk Coast. Whilst we all need electricity we should not have to suffer at the hands of big power companies. We aim to fight poor decisions that impact on communities and residents in East Suffolk and we will hold energy companies and government energy policy to account.
HOW WILL SASES.ORG.UK MAKE A DIFFERENCE?
We will expose the poor consultation and decision making of Scottish Power Iberdrola. 
We will fight for communities and the sanctity of village life. 
We will stop industrialisation of the countryside  a precedent cannot be made allowing Scottish Power or other energy companies to build substations next to villages or towns within rural locations. The government needs to agree designated locations for this kind of energy infrastructure.  
We will push for joined up thinking and sense on energy policy, we will Save East Suffolk! 
WE MUST PROTECT OUR COMMUNITIES
We stand with a united voice, residents in East Suffolk and the Suffolk Coast will not accept this precedent to be set. We will fight to ensure substations are not built in randomly selected locations when there is suitable land closer to Sizewell, nearer to the coast and cable landfall.  The energy companies must work together with EDF (Sizewell Power Station) & Magnox (Sizewell – Nuclear Decommissioning Authority) they must find an acceptable solution that causes less damage to communities and the sensitive environment of the Suffolk Coast AONB.
SAY NO TO THE SCOTTISH POWER SUBSTATION FRISTON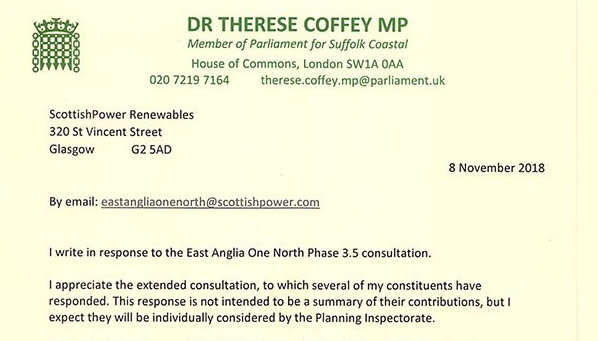 MP Therese Coffey Letter – Response to Consultation
Suffolk Coastal MP Dr Therese Coffey has published her written response to Phase 3.5 Consultation.
In the letter Dr Coffey appears to be more engaged in the consultation with an understanding of the connection issues in the Leiston/Sizewell area (including Friston). She reiterates a case for National Grid to explore options outside the area and offers Bradwell as an 'ideal candidate'. 
Many including SASES have brought up the role of National Grid, who permitted SPR to walk away from their originally agreed connection via Bawdsey to Bramford for the EA1N & EA2 projects. It now appears National Grid failed to consider the huge implications of this and  subsequent decision to grant a new connection in the 'Sizewell' area. The impact is huge both environmentally and physically.
You can find further details here >>>