Community & Campaigners Attend East Suffolk Councils Strategic Planning Meeting Concerning SPR's EA1N & EA2 DCO's
Friston residents and coastal campaigners took a coach to Lowestoft on Tuesday evening to attend the East Suffolk authorities cabinet committee meeting at Riverside.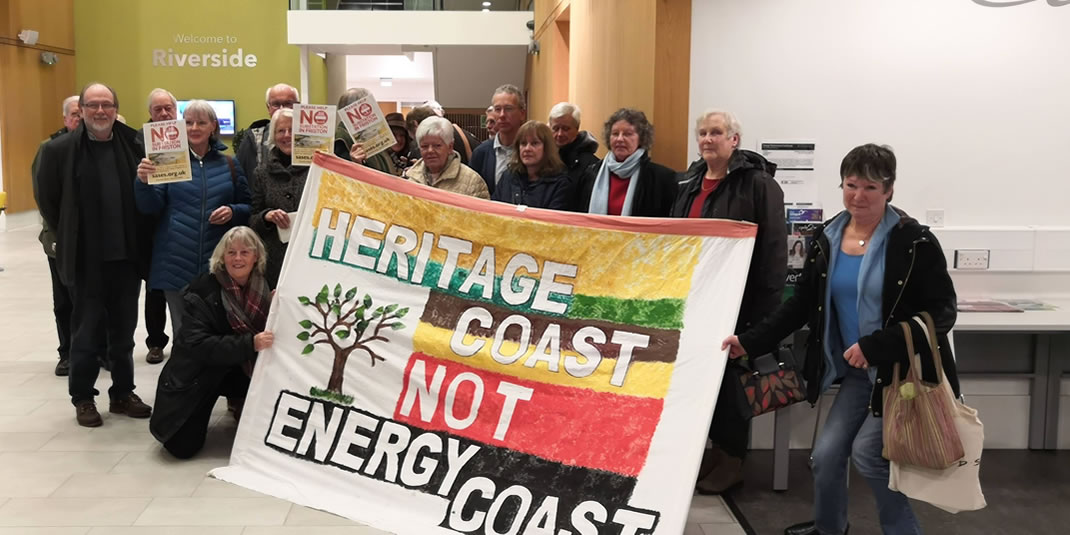 With virtually all public seating full, councillors were presented an overview of Scottish Power's proposals and key details about the DCO applications. Many of the concerns highlighted mirrored concerns of communities and residents who will bear the brunt of the permanent onshore elements.
Council leader Steve Gallant reiterated his recent public statement on Scottish Power's EA1N & EA2 DCO applications and of continued concerns surrounding the proposed location of substations and grid connections at Grove Wood just to the north of Friston village. 
The shared concerns and growing consensus of east Suffolk's parish councils was highlighted by councillor Jocelyn Bond. Councillor Bond confirmed that 33 PCs have now signed up calling on Andrea Leadsom the Secretary of State to pause EA1N & EA2 DCOs pending an urgent need to examine energy proposals in East Suffolk.
In summary the cabinet meeting considered issues including: flooding, noise, visual impact, traffic transport issues, health and wellbeing, and the hugely significant cumulative impact of the projects themselves and in the mix with other energy proposals. The cabinet went on to vote unanimously in favour of the authorities continued position to oppose the onshore aspects of both projects.
SASES hope East Suffolk will be even more robust going forward; it is clear proposals are worse, not better, land-grab now exceeds 80 acres of agricultural and village amenity land. There has been NO attempt to 'digg' substations into the landscape whatsoever, there is virtually no banking around the perimeter and the illustration of planting/screening proposals are simply not credible. SPR also appear to suggest that surface water flood issues on the proposed substation site at Grove Wood might require the National Grid substation to be raised to address a 'potential' for the site to flood. This is a direct acknowledgement by Scottish Power that there are flood issues at this location. SASES hope East Suffolk will also be robust on broader concerns of unnecessary repeated damage to the AONB, widespread disruption and damage to the local tourism industry, closure of and disruption to public rights of way (including the 'Sandlings' walk). Plus proposed cable landing at Thorpeness along a stretch of one of the most fragile coastlines in the whole of the UK. 
View East Suffolk cabinet decisions and supporting documents here >>>